Newsletter #3, 11/13/2023
The Old Ways Must Go
This newsletter opens with a bit of disappointment. Our Kickstarter for The Old Ways Must Go didn't quite make it to funding. So, for the time being, we are not printing the cool playmats we were hoping to have. But based on all the feedback we received, this was a campaign that simply didn't have enough noise around it. It seems to have been primarily a marketing failure and that's something we can learn from and address moving forward.
In the meantime, Samphire is working on integrating feedback from Metatopia, and Tim is working with Jen to adjust the artwork a little bit based on the physical aspects of the playtests. We're aiming to relaunch a campaign in February 2024, assuming that Kickstarter's Zine Quest comes around again at that time.
---
PAX Unplugged
Galileo will be present along with the IGDN booth at Block 41. We'll be around running some games here and there, generally meeting people, and hanging out. And hey, let's do a giveaway while we're at it. Be the first to find Tim at PAXU, (you can find recent pictures on Instagram @ogreteeth) and present yourself as worthy of grandeur. That grandeur will take the form of a free hardcover copy of Katanas & Trenchcoats.
In case you don't know the Grandeur rules, here's the rundown. Basically, it's just "do something cool, funny, silly, or clever" in an awesome fashion.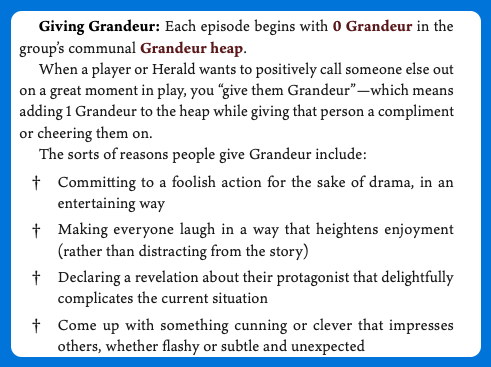 ---
One-Shots on Discord!?
We're looking at starting to run some one-shot games on the Discord server to practice and test some convention scenarios. If you're interested, keep your eyes on the Events tab. And if you're not part of the Discord, you can join us at the link below!
---
Until next time friends, stay thankful and keep in touch.